This is one of our oldest modules in Spike@School. We realised early on that schools needed an easy way to add and maintain the Newsletters on their website.
You can add as many Newsletter Sets to your site as you want. You could have one for the main school Newsletter and classes could have individual Sets for their own class Newsletters.
You can add a Newsletter Set by choosing Newsletter Set from the 'Add a New' menu in the Construction Zone. You'll get this page: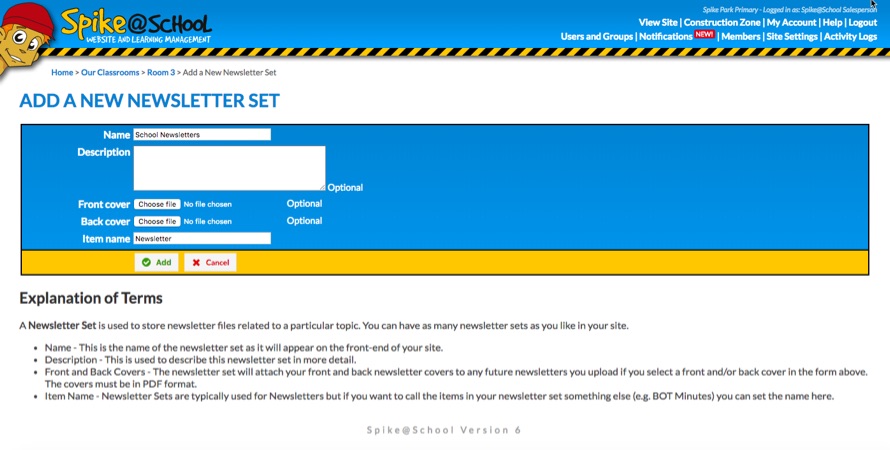 ---
Creating a Newsletter Set
Give your Newsletter Set a Name and (optional) Description and click 'Add'. Now if you click on it in the Construction Zone, you'll be presented with this screen:

Once you've uploaded a Newsletter, you never have to delete it because Spike@School will automatically archive it according to the year it was uploaded. When visitors come to your site they'll be able to browse to those other years if they want. They'll be shown the current year by default.
Let's add a Newsletter. Click on 'Add a New Newsletter' to upload your PDF Newsletter.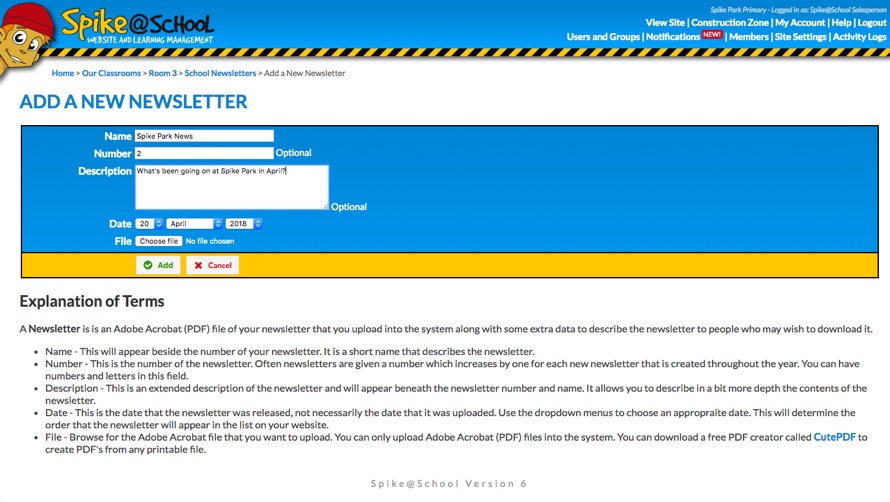 The Newsletters will be arranged on the front-end of your website according to the dates entered here.
---
Converting To PDF
We require that you convert your Newsletters to PDF format because this is the most widely readable format on the Internet. Many home users don't have Word or Publisher. You may be able to save a document as a PDF using 'Save As' within your publishing program or there is a free PDF converter available to convert your files. It works like a printer, so you can print your Newsletter to the PDF printer and it will save it as a PDF.

Viewing Your Newsletter
Once you've added your Newsletter you'll be able to view a list of your Newsletters on the public side of your website. Clicking on the Newsletter's Name will download a copy of the Newsletter to your computer for you to read. The latest Newsletter will always be at the top.